Where the Berry Breeze Blows



Season

2

Episode #

8

Series #

34

Air Date

Feb 4, 2012

Previous Episode

Next Episode
"Where the Berry Breeze Blows" is an episode of Strawberry Shortcake's Berry Bitty Adventures.
Summary
Bad weather ruins the girls' vacation plans, so Orange tries to recreate a resort area at home.
Episode Review
Plum carries a box of swimming equipment while explaining to Postmaster Bumblebee that she and the other berry girls are trying to hurry up and pack for their vacation they won since summer is almost over. They need to hurry if they want to have time to enjoy it, and she checks to see if she got anything in the mail; overjoyed upon finding the maracas she ordered.
Meanwhile, Strawberry is busy baking away at the Market Place but she can't help but think she's forgetting something when Postmaster Bumblebee shows up to give her a letter. She hurries up to finish the apple pastries she has been preparing as Plum and Cherry excitedly chat and overlook a page of the place they will be staying at. Slowly the others show up with Blueberry expressing her desire to surf, and Raspberry excited to enjoy the scenery while Lemon plans to sunbathe.
The girls sing together when Orange shows up with a checklist for the Vacation. She would hate for them to forget anything important and they requests copies of it, so that they can all get prepared. With that they split up for the day.
The following morning, everybody waits for the Butterfly Bus when Orange mentions it should have been there by then. Cherry points out that something is coming - but it ends up only being a breeze.
A bit later a random Berrykin drives by and some hours later Orange finally sees someone else coming. It's Postmaster Bumblebee, who gives Strawberry a letter from the Berry Breezy Bay Hotel telling them that unfortunately due to the berry berry breezy weather the resort was closed. This disappoints them and they try to think of something to make them feel better. Blueberry decides she'll do some research for other resorts until Strawberry points out that since Summer is almost over, there won't be any time to re-plan an entire vacation. Orange suddenly suggests that since they can't go to the Island, they'll simply "bring the island" to them and they could somehow make a resort at the beach area in Berry Bitty City. The girls are doubtful of this, but Orange thinks its at least worth a try.
As Orange tries to work, the girls observe while making small, worried comments. Strawberry is beginning to have faith in the idea, as long as they help her too and she then asks if they can help her and Orange gives each girl a different job, such as setting up items and menu's, the "peach-pink" sand and other objects needed for the perfect resort.
After the pink sand is all spread out, Raspberry begins to make a sandcastle and has a lot of fun until Orange gives her a picture on how to make perfect sandcastles.
Berrykin Bloom explains that he had some trouble trying to shrink the palm trees that Orange wanted when suddenly he has the others bring out one of them. They then take back the tree and he promises to have it even smaller come tomorrow. Raspberry then builds a sandcastle when unknown to them a big coconut runs over it.
Lemon and Strawberry are still trying to make Peach-Pink sand and its still not working.
Meanwhile, the wind machine is not blowing enough breeze and Berrykin Bill asks his helpers to try to peddle harder. It becomes so huge that Raspberry's sandcastle is destroyed for a third time.
Orange then gets upset seeing the damage that the wind has caused and walks off for a moment. The girls decide to check on Orange and try to convince her that she tried her best and that it was a big project, perhaps too big for them. But she ignores them and tells them how she has downloaded a much better plan to make the resort more like the Berry Breezy Bay Resort. She asks them to meet her in a couple of minutes for new assignments and she walks away. The girls are growing upset now as they know they cannot build what she is expecting of them.
So in hopes of calming down the situation, Strawberry goes to have a word with her and Orange asks her why the others didn't come with her also before explaining that everything is perfect on this plan when Strawberry shows her the plans Orange had made the berry first time. Orange points out how wrong it was as Strawberry points out in this plan that all of the girls were having fun.
It's then Orange finally realizes she was being so bossy and trying to make a perfect resort that she didn't bother to pay attention to the fun parts of it, or even realize how upset she had been making everyone else. So, upon re-grouping Orange tells the others to focus on just having fun while they also do their work. So now everybody begins to work together, pouring the sand, building, painting, planting, making sandcastles, surfing, and posing for photographs
Orange is very happy that they managed to build a beach perfect for them and they all did it together while having fun. Orange cuts the ribbon they had tied to it for the ceremonial opening and they all decide that they will begin their vacation official tomorrow.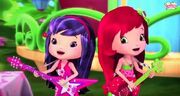 With that in mind, Cherry and Strawberry play music together and sing. Then Orange and Strawberry begin to discuss their paradise they created and they run out to go and surf.
Quotes
(opening scene: Plum is walking, carrying a box of her diving gear. Postmaster Bumblebee flies nearby)
Plum: Good morning, Postmaster.
Postmaster Bumblebee: (chuckles) You're getting ready for your vacation, I see.
(a strong gust of wind make Plum stop, and pushes Postmaster Bumblebee backwards)
Postmaster Bumblebee: Feel the chill in that breeze!
Plum: (sighs) Yeah... not much summer left. We're trying to get going before it's over. Ah! Oh, I nearly forgot: do you have anything for me today?
(Postmaster Bumblebee opens the mail bag, and takes out a purple package)
Postmaster Bumblebee: Well... well, well, well, hmm... what have we here?
(Postmaster Bumblebee shakes the package. It makes a rattling sound)
Postmaster Bumblebee: Hmm, now, let's see... they're six dozen dried kidney beans, or...?
(Postmaster Bumblebee hands Plum the package. She puts the box down and takes the package)
Plum: The maracas I ordered last week!
(Plum opens the package and takes out the maracas. She rattles them excitedly)
Plum: Thank you, Postmaster! These are for our trip. When we get to Berry Breezy Bay Resort, they're gonna know we arrived!
-----
(Postmaster Bumblebee gives Strawberry a package)
Postmaster Bumblebee: Delivery from Happy Pappy Snap Apple Farm.
Strawberry: Perfert! (giggles) Thank you. Now I can finish my Snappy Happle Apple snacks. Would you like some? Oh, they're very good.
Postmaster Bumblebee: No, can't. I'm on that new buttercup diet. (chuckles) Well, happy vacation!
-----
Lessons
Orange learns that while it is good to plan in advance and have control when it comes to projects, doing this for things meant to be fun - it can actually ruin them and spoil the entire thing for everyone.
Trivia
A running gag: Raspberry's sandcastles are repeatedly destroyed.
Goofs
When Strawberry reads the letter from the hotel, she holds it in her left hand and the envelope in her right hand. A moment later, the envelope disappears. 
Ad blocker interference detected!
Wikia is a free-to-use site that makes money from advertising. We have a modified experience for viewers using ad blockers

Wikia is not accessible if you've made further modifications. Remove the custom ad blocker rule(s) and the page will load as expected.