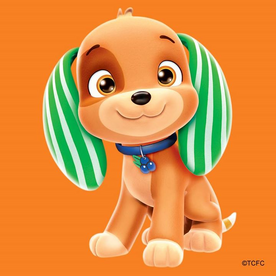 Tom Tom
is the perky little coonhound belonging to
Huckleberry Pie
after the events in "
A Boy and his Dogs
" after it was realized he cared for Huck the most during their time there.
Personality
Tom Tom is a very playful and curious pooch. Like Huck, he seems to enjoy the company of others, but unlike him, he isn't shy or clumsy in the least bit.
As leader of the pups he seems to be the most behaved, mature, and smart. He wanders on his own most of the time to check on everyone, and it is because of him that everyone got the dog they were meant to have.
Appearance
Tom Tom is a light brown colored pooch with a pale tan muzzle, chest, tummy, and paws. He has long floppy ears of white and green stripe, as well as a few caramel-colored marks on his body. His eyes are bright orange, while his nose is black. Around his neck is a blue collar and a huckleberry charm. He also has a brown patch on his left eye.
History
It was Strawberry Shortcake who chose to take Tom Tom, after Blueberry who was calling him Sniffer. She renamed him Biscuit and throughout the day noticed he kept vanishing every so often. He spent his time wandering around Berry Bitty City and was playing with the other pups. Eventually it was realized that he had missed Huckleberry and wanted to be under his care.
Trivia
Tom Tom's design was taken from the original appearance of Pupcake.
Tom Tom resembles Copper from the Disney film "The Fox and The Hound".
Since Huckleberry's name is based on Huckleberry Finn, Tom Tom's name is perhaps a nod to Tom Sawyer.
Similarly to Huck, Tom Tom suffers from stage fright ("Doggie Dance No-Show").
He appears occasionally on Season 3. On Season 4 he appears in "Doggie Dance No-Show" only, in which his bark changed.
He appears in the show the least of all the puppies.
Gallery