Sweet and Sour's Food Truck
is the Grape twins' mode of transportation and service. It first appeared with the girls in
Berry Double Trouble
.
While traveling near Berry Bitty City, the girls got lost and in the process got a flat tire. Since deciding to stay there, their work has been transferred into the Berry Bitty Cafe.
Appearance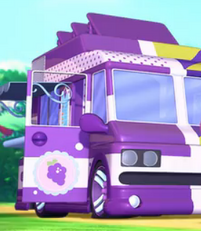 Outside
The outside of the van is painted to match the twins. It has a large white line going down the center to divide the sides evenly. The left is painted a striping of acid-green and dark purple, while the other side is dark purple with pastel accents. The truck has a rectangular shape to it, with many windows and grape designs.
Inside
Trivia
It appears in two episodes only: "Berry Double Trouble" and "Berry Big Tale-Teller".
The food truck is the fourth road vehicle shown in the series, following Cherry Jam's tour bus, Mavis Maraschino's news van and Huck's Pup-Mobile.

It is also the second vehicle shown in a season premiere.

It's the third road vehicle used for work purposes to appear.
The tires of the truck are bigger than the ones on Huck's Pup-Mobile!
It is unknown what has become of the truck after the twins started working at the cafe, as it is no longer appears in the show after their first scene (except in Sour's fictional story).
Gallery
Ad blocker interference detected!
Wikia is a free-to-use site that makes money from advertising. We have a modified experience for viewers using ad blockers

Wikia is not accessible if you've made further modifications. Remove the custom ad blocker rule(s) and the page will load as expected.