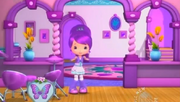 Sweet Beats Studio
is run by
Plum Pudding
, who also lives there with her puppy
Pitterpatch
. It is near the
Berry Bitty Cafe
.
Exterior
Its door is the color violet and has a round window on it. It has 3 big windows. It also has a 3 step ladder connecting to a pair of posts supporting the roofs. Also, the windows each have a pair of posts. On the left side of it was a small patio with a green stripe covering and a big mirror which she uses sometimes when teaching her dance classes. In addition, it also has a small fountain outside.
Interior
Inside the studio is a big room with a wooden floor, and a pink wall with some violet under. It also has a blue lining on it. There is also a pair of dividers that has a vase on each of them, which divides the room in half. Inside the other half was a floor with a big circle, which has an illustration inside it of a plum surrounded by green leaves. On the corner is a table and small vase. There is also a door on the right side of it, that has a pink curtain. In addition, it has an entrance that has a 3 step ladder, and also another entrance without a ladder.

Trivia
Ad blocker interference detected!
Wikia is a free-to-use site that makes money from advertising. We have a modified experience for viewers using ad blockers

Wikia is not accessible if you've made further modifications. Remove the custom ad blocker rule(s) and the page will load as expected.