Basic Attire
A neon yellow and dark purple striped top with black elbow-length sleeves. Along with black short-shorts held by cuffs of neon yellow. Her sneakers match her shorts. She wears her normal hair accessory.
Formal
Other
A black helmet with green grapes depicted on it. Circling the bottom are small green dots, while the flap appears to be pale grey.
Gallery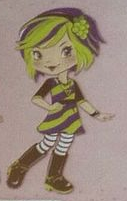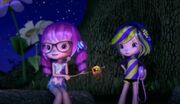 Ad blocker interference detected!
Wikia is a free-to-use site that makes money from advertising. We have a modified experience for viewers using ad blockers

Wikia is not accessible if you've made further modifications. Remove the custom ad blocker rule(s) and the page will load as expected.