Being on multiple online websites, of course Strawberry Shortcake has some online games~! This page will only be for official games. So please do not include fan games unless otherwise stated.
To play any of these games just visit the Hub page, unless otherwise noted.
How a Garden Grows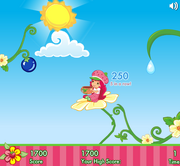 In this game, Strawberry will help you tend to a garden. To do this you simply move around your mouse pointer and Strawberry will follow it while she travels along a vine. This vine will continue to grow and follow you as you collect water droplets.
Along the way, Strawberry can collect Strawberries and Blueberries and if she collects enough to light up the flower in the lower right corner with the score mark then bonus points are rewarded.
After the time runs out, the berries will be counted and your score will show in total.
Hide N Seek
In this game you simply travel along the street while trying to find all of the Berry girls! As you move across they will change locations every few seconds until you find them or quit. It's implied in this game you play as Custard, as she is not shown during the game. Just before and after, and she is the character who covers her eyes while the girls run away.
Small things (mainly flowers) will move or wiggle as your mouse goes over them. They seem clickable, but clinking on them does nothing.
Glimmer Berry Catch
This game involves moving baskets to catch the same color of the berries that fall. Catching a star will give a star berry bonus, while you need to fill up the berry good meter. On the screen the timer is represented with a strawberry shaped clock. You must play/win three rounds in order to beat the game. For each round you gain a new color basket/berry to collect.
Orange is level 1, Raspberry is level 2, and Lemon is Level 3.
Fashion Show
Not much to say honestly in regards to this game, you simply dress up your berry girl of choice and she walks along the catwalk as pictures are taken. You can then save the image or print it out.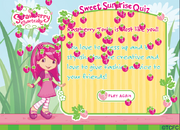 Sweet Surprise Quiz
This is a personality quiz one can take to determine which Berry girl you're like~!
Lemon's Stylin' Salon
The goal of this game is to match the design in the small mirror next to the girl your giving the style to. When your done you click the "am I right?" button and Lemon will let you know how well you did.
You can also make up your own style, but will lose if its not correct when you click Am I right. So if you just wish to style the girl any way you want then do not click am I right afterwards.
Create a Snowglobe
Create a Snow Globe is a small customization game where you can make up your own snowglobe and then send it through email to people~!
First you have to fill the globe with water to the red line, Then you can pick up to 6 special decorations for the snow globe and remove them at anytime if you wish before continuing to the next step. Then you next pick one scene to go inside the globe, then color the base, then you can shake it and its done :3
Lets Make Lemonade
The goal of the game is to go through three levels of it to collect stickers that you can add onto Strawberry Shortcake pictures that you can print out. You use the mouse to play and the levels are the following:
Collect the strawberries and lemons. If you collect 15 or more then you'll win items.
Fill the glasses and give the girls their drinks. To unlock bonus items you have make 6 lemon drinks and 2 strawberries.
Deliver the drinks to strawberries friends. While doing this you have to avoid Pupcake and Custard The Bonus is unlocked if you give them all of their drinks.
Orange Mart Madness
To play this game you use your mouse to move incoming items onto the shelves before time runs out. As levels go on, more items begin to arrive.
Raspberry Torte's Fresh Fashions Boutique
This is a simple dress up game~!
Berry Beats Music Maker
A game that lets you mix and play music, you can even record and save it.
Plum's Movin' to the Beat
In this game you play as Plum Pudding, of course~! You simply use the arrow keys to control her movements as the Berrykins fall into their colored baskets. The key to win the game is to hit the right arrow key below the basket as the berrykin falls in, or else it won't count.
Raspberry's Fancy Fashions
Play dress up with Raspberry Torte! You can Print out your creations when your done. This game is very simply and easy, just click on the outfit item and it'll appear on Raspberry.
Berry Fashionable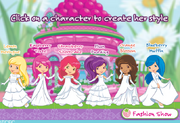 A cute Fashion Show oriented game in which its up to you to color the berry girls' fancy gowns. Once you finish the one girl, you can go back to decorate the other girls. You can add accessories too if you want! They rang from hair pieces, shoe ornaments, and other jewelry.
Lemon: Shoe lemons and hair clip
Orange: Chest wrap and headband
Blueberry: Show ornament, headband, shirt clip
Plum: Tiara-piece and pin
Strawberry: Headband, sleeves, shoes and necklace, dress pin
Raspberry: headband, earrings, jewelry, gems on dress
Upon finishing, click on Fashion Show to end the game. Creations can be sent to friends if chosen!
Cherry Jam is not in this game, but she may be added to a later version.
Berry Patch Match
The official hub world website just recently added this to their site, in this game you test your memory by trying to match the photos. Click on a photo to flip it, then click on another card to see if it has the same picture on it. Match the cards until theirs none left. How fast can you match them?
Match character's including: Huckleberry Pie, Blueberry Muffin, Cherry Jam, Orange Blossom, Strawberry, Lemon, Plum and Raspberry.
In the first round there are 8 tiles to match but as you go to  the next level the tiles double.
You are also timed in this game.
Trivia
Blueberry shows up with a long-sleeved shirt during a few of the games, however she does not wear such attire in the series.
How a Garden Grows is a reskin of a game of the same name for the previous Strawberry Shortcake.
The Glimmerberry Catch game does not have Glimmerberries.
Gallery