As a merchandise based series, loads of merchandise has been released for each series of Strawberry Shortcake. Using the appeal to little girls and general Strawberry Shortcake around the world. Most pieces of the series/merchandise can be bought from stores like Toys R Us, Walmart, or Target. But many random spots will also have merchandise, like Dollar Stores or even maybe Hot Topic.
Only items that are from the current series should be placed on the pages so please place anything you have to share in the right areas!
Dolls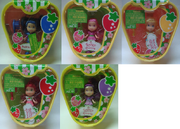 The series most common product, dolls!
They're cute and usually come with accessories, clothes, and sweet scents. This section is just for single dolls, for sets and themed dolls, please visit this page.
Berry Sparkling Charms - A special Strawberry Shortcake doll with a very pretty, shiny dress. The top is light pink and a little showy, while the skirt is puffed slightly and very long with many different flowers along the side. She comes with a pink butterfly clip and pink flats. She also comes with a less noticeable, but equally fancy dress. For this doll, Strawberry has pulled her hair back into a ponytail with a curled strand worn on the side and a fashionable, floral headband. The two outfits can be combined and the butterfly clip is mix-n-match.
Sweet Surprise Strawberry shortcake - A 9 inch doll of Strawberry Shortcake that comes with many hair ornaments, makeup applications, and a fresh strawberry scent~! Her hair is very long and straight and can be braided or clipped.
Glamorous Dolls - Normally seen is the Raspberry Torte variant. The figure/doll that comes with many objects to decorate her with, including a changeable outfit, a raspberry shaped perfume, a brush, a hair dryer, and small hair decorations for both up and down hairstyles.
Twirling Fashions - A cute Strawberry toy with two outfits that when put onto the display, will spin around when one plays with the small handle-piece on the display.
2010 Strawberry Shortcake Hasbro SDCC exclusive 5 inch figure - A berry special Strawberry shortcake doll with a very unique outfit including a soft pink ruffle blouse with a strawberry charm in the center, a multi-layer pink themed skirt with white polkadots, strawberry dangly charms on the side of her skirt, cute pink winter boot-inspired shoes, and a knit eared hat making her resemble a kitty-cat! She also comes with a special Custard pet. Her hair for this doll is normal shaped but with a single braid.
Figurines
Little figurines or dolls that are just for display purposes or to be used as an accessory item.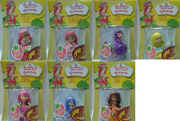 Miniatures - Little figures or statues made of the girls in basic poses. They are most-likely made out of plastic and have almost a clay texture.
They comes in little plastic bags with thin cardboard at the top to staple it shut. Figures include:
Strawberry on a strawberry
Strawberry holding Custard
Plum leaning on a Plum
Lemon sitting on a lemon shaped carpet as she looks into a mirror
Raspberry posing while holding raspberries
Blueberry with her arms folded on a Blueberry
Orange sitting on an Orange slice
Toys!
Items that are not considered dolls, figurines, or doll sets. These can be toys, crafts, games, and much much more!
Cash Register - Ever want to run a Berry-sweet Cafe? Well with this toy you can with this cute cash register with big, easy to see numbers and price monitor on the top portion on a soft pink decorated piece. By pressing the big CASH button in lower corner you can open the small money holder and on the side is a big, easy to grip Strawberry shaped price scanner.
Comes with: Lemon 5 dollar bills, multiple coins, Blueberry 10 dollar bills, a Strawberry Shortcake credit card, and two non-edible, 3 piece bundles of strawberries, strawberry juice, and strawberry milk.
Playdoh Creation kit -
Party Game - A board/image of Strawberry Shortcake and Custard with strawberries, the point is to take the mini-strawberry stickers and write down the names of those playing. The person to stick it closest win.
Memory - Like the typical card game, but Strawberry shortcake style!
Kitchen Set - A berry big kitchen set for anyone to pretend to run a Cafe. Goes well with the Cash Register set. The bottom half is bright pink while the top is pale pink. The wallpaper inside is red and green striped. The burners are pale green and there's many stove buttons with Strawberry icons on them to match the decorations. A small shelf is at the very top too! The kitchen includes:
A green, pink, and red cup
green, pink, and red plates
a pale pink pot
pale pink teapot
a pan with pink handle and matching tools
An oven segment at the bottom
Strawberry Cart - A cute pastel pink cart to push while shopping! Goes well with any Strawberry Shortcake play sets mentioned above. The handle is brighter pink while the wheels are pale green with strawberries.
Tea Set - A sweet set of toys perfect for a sweet party. Includes a magenta platter to carry the items on with green curvy handles, a pale pink teapot with green bottom, handle, and top with yellow flowery center. Matching teacup and cream server. Pale pink sugar-dish with small strawberry in the center on the lid. Two strawberry dishes and cute pale pink spoons with green handles making it resemble strawberries on a vine.
There is also a separate seat and table piece one can purchase.
Costumes
Ever wanted to dress up like your favorite berry girl? Or maybe you just wanna try a new outfit!
Frutti Cutie Chef - A berry cute chef costume including a white apron piece with Strawberry's shirt icons that goes around the neck, a neon pink chef hat with tiny red spots and thick white band, and a pink apron with spots all over it and big strawberry pockets.
Sparkles and Lace - A very cute Strawberry Shortcake inspired dress. The top is a silky feeling material and pink with silk, shiny green sleeves and translucent green ruffles attached. The bottom part of the top resembles a corset with glittery green band shaping it and a gem Strawberry in the center. Tiny red polka-dots pattern it. The skirt is Magenta-red covered in glitter. The lining matches the sleeves.
Pink Princess - A very cute princess gown for any little berrykin Princess in training! The top is pink with tiny red polka-dots and green sparkly lining at the top where a green segment is, giving it a leafy appearance. The sleeves resemble strawberries. The skirt is long and a shiny, smooth, silky material and magenta colored with a small image of strawberry in the corner. On top of the skirt is a translucent puffed red with green frill-lining piece.
Shimmery Pink - A cute Toys R Us exclusive dress. The top is a smooth felt-like material and light pink with a single strawberry icon in the center. The sleeves are pink with tiny red spots. The skirt is ruffled and light pink matching the sleeves, with a translucent, pale pink ruffled piece on top with a thick magenta strip at the top attached to a frilly green bow ornament, and the bottom is white lined with tons of little shiny spots sewn on.
Fantasy Raspberry Dress - A cute, dark pink raspberry themed dress! The bodice is dark pink with a special image of Raspberry depicted on it between a very dark segment similarly shaped like a vest with very small glittery lining. The sleeves resembles a giant raspberry. Around the waist is a multiple colored green and white bow with big beads shaped to resemble a raspberry. The skirt is composed of multiple layers, a very dark one, almost white soft layer, and more stiffer layering on top with translucent and glittery material.
Health and Beauty
For those who love smelling and feeling berry sweet~!
Bathroom Set
Hasbro and Blue cross Laboratory has released these berry fresh products perfect for keeping your body sparkly clean and smelling sweet, they include....
Very Berry Hand Soap - If your a fan of Strawberry Shortcake then you'll love this sweet smelling soap! It comes in a soft pink colored bottle with a pink and white nozzle. On the front is a sticker with pink and slightly darker pink border and a very pale pink background with tiny white polka dots. Strawberry is posing on the front with the words "Very Berry scent HAND SOAP" in a bubble next to her. The liquid is a translucent pink color and it claims the scent as Very Berry, it has a licorice and bubble gum scent. It is suitable for all ages and does not leave behind "soap residue".
Currently a new bottle design has been released. The nozzle and bottle keep both their shape and colors. But instead of a sticker being on front, it now has a plastic piece around it decorated like the sticker, but the boarder is now magenta and red, not two alternate shades of pink. The hand soap is the only piece of the Strawberry Shortcake Bathroom Products to have changed. If one looks on the label, it has changed in a couple of spots too!
The line on the original bottle "Mild ingredients are specially formulated for kids' sensitive skin" has changed to "Mild ingredients are specially formulated for sensitive skin".
The ingredients list has added "D&C Orange No.4".
The Hub logo has now been given correct coloring.
A produce and expiry date has been added.
Berry Fresh 2 in 1 Conditioning Shampoo - Following the coloring pattern of the soap and other products, this one has an image of Strawberry on a strawberry instead of posing as she stands. The liquid is the same color of the soap and is berry smooth and soft. The scent is supposed to be Berry Fresh, and it really does smell like Fresh Berries!
Tutti-Frutti Body Wash - This body wash depicts an image of Strawberry on the strawberry much like the previously noted, however the coloring is darker. The scent is labeled tutti-frutti and has a watermelon candy scent. It's color is the same as the above.
Tutti-Frutti Bubble Bath - An oval-like magenta (or pink) bottle of bubble bath. The lid at the top is a pretty fuchsia circle and the liquid is thin and translucent pink as well. The label on it is styled like the current re-issue of the hand soap but with brighter colors.
Other
Berry Bubbly Bath - A small bubble bath set that comes with bath supplies, a bath, strawberry shortcake and Lemon doll.
Strawberry Body Wash - Styled vaguely like the Tutti-Frutti Bubble Bath, this is a special pediatrician recommended body wash, enriched with Vitamins A and E to ensure soft skin. At this time, liquid coloring and texture is unknown. The label on the front wraps around the entire bottle and shows a scene depicted Strawberry standing in front of her Cafe.
Bandages - Nexcare has produced an assorted set of Strawberry Shortcake band aids with usually 20 in a box.
Strawberry and Plum double pack - A cute clear bag featuring both Strawberry and Plum lotions and lip gloss!
Variety pack - A special pack of scented nail polishes and lip gloss tubes (four of each alternate styles) for a total of 12 tubes. All of the nail polishes have a scent, but they all smell exactly the same while all eight of the glosses have their own unique smell. In most places this set can be bought for three dollars, give or take.
Included are: 
Green Apple nail polish - Green - Custard with strawberries.
Citrus nail polish - clear with orange and green sparkles - Orange Blossom.
Strawberry nail polish - bright pink - Strawberry Shortcake.
Raspberry nail polish - Purple - Raspberry in her longer dress.
Lemon squeeze gloss - Lemon purse - has refreshing taste on the lips.
Orange squeeze gloss - Orange Blossom purse - very dull taste on the lips.
Strawberry squeeze gloss - Strawberry Shortcake purse - unlike the others this one has color, strong taste.
Raspberry squeeze gloss - Raspberry purse - brightest color, taste is strong but not easy to identify.
Green roll gloss - Custard with strawberries - clear, very dull green - not easy to identify.
Orange roll gloss - Orange - bright orange clear liquid - refreshing in taste and scent.
Raspberry roll gloss - Raspberry - translucent purple/pinkish - strong taste, sort of perfume-like.
Strawberry roll gloss - Strawberry - translucent pink - clear, fresh scent. Good taste.
Glam Strawberry pack- A cute little bottle of strawberry scented body lotion with multiple imagery all over it and a fuchsia pink lid/border. A cute pop star styled Strawberry is on front. Changed to the side is a small tube of matching lip gloss.
Therapeutic cold pack duo - For those days where you do not feel berry well, count on this to perk you or your little ones up! Includes a cute strawberry head icon ice pack and a somewhat taller ice pack with a full image of Strawberry.
Nail polish Pack - A cute four pack of nail polishes that come in the same pack as the Mini-purse beauty set of lip glosses. Includes also a strawberry Shortcake shaped nail file and two toe-dividers. The polishes are pale/light pink, hot pink, green, and yellow.
Lips and Makeup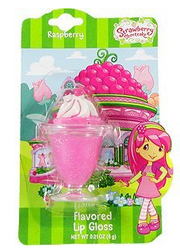 What girl doesn't love the scents of lip gloss? Many small containers of lip gloss or balms have been released, usually of each girl in multiple shapes, colors, and containers. 
Other makeup also exists for the series, but the most common has been lip glosses.
For now the following list includes...
Plain Tubes
Orange lip balm - An orange themed tube of lip gloss. It comes in a package with Orange standing in front of Orange Mart. Her pose matching the pose she has on the tube.
Blueberry lip balm - Much like the above but with Blueberry.
Raspberry lip balm - same as above, but with Raspberry.
Winter Set - A berry colorful set of lip glosses. Six tubes, each a different color, flavor, and design. Including:
Strawberry in winter clothing on pink tube with strawberry flavor
Pupcake on a green tube, green apple flavor
Pale pink tube with strawberry building a snow man on it, bubblegum flavor
Blue tube with Blueberry in winter clothes on it, blueberry flavor
Raspberry with berrykins on purple tube, __ flavor
Custard on a Magenta tube with cherry flavor
Unique Tube - A strawberry shortcake lip gloss tube that is pale pink in color and made of a pretty plastic. The lid is translucent magenta and the lip gloss rolls onto ones lips through a metal piece. It is not typical lip gloss in that form. On the front is a picture of strawberry with a few shopping bags.
Squeeze Tubes
Blueberry flavor - A see-through tube with blue lid and bottom of tube. The colors inside are white and blue stripe and an image of Blueberry is on the front.
Lemon Lip Gloss - A yellow themed variant of the above.
Desserts
Raspberry Lip Gloss Sundae - A very special product line. Cute lip glosses shaped like sundaes! Raspberries is a shimmery neon pink with white icing on top and raspberries.
Strawberry Shortcake Sundae - A shimmery neon pink-purple color with pale pink on top, pastel pink icing and a strawberry.
Lemon Lip gloss Sundae - Like the above, but her sundae is a gelled yellow color with a small amount of cream on top and a lemon in the center.
Lemon Lip Gloss Cupcake - A cute yellow cupcake in a white wrapper with cream on top and a lemon in the center.
Strawberry lip gloss cupcake - Strawberry's variant of the Cupcake lip gloss. The cupcake is a very pale pink with pastel pink icing and a strawberry on top. The wrapper is another soft shade of pink.
Raspberry cupcake - A light neon pink cupcake and wrapper with a lot of cream with raspberry icing/gel swirled in. At the very top is a raspberry!
Jewelry
Blueberry Lip Gloss Ring - A cute dark blue ring with a little lid for lip gloss. When viewed on the side its revealed to be translucent and on the lid is a small image of Blueberry.
Lemon flavored lip gloss ring - a yellow themed ring with a small compartment of lip gloss.
Strawberry lip gloss ring - A very soft pink ring with a small compartment of lip gloss and a small picture of Strawberry on the lid.
Other
Mini-Purse Beauty Set - a cute 6 piece lipgloss set. The purse that comes with it is translucent with magenta lining and shaped like a strawberry. One can carry it by the pink and green beaded handle.
This set includes:
Plastic translucent tube of strawberry shortcake lipgloss with black/metallic lid.
A cute dangly necklace/piece to be hung from objects.
A strawberry shaped tube of lip balm that opens on the top with a small hoop attached to the top so that it can be tied into things.
A liquid lip balm inside a plastic see through box with tiny strawberries all over it.
Another strawberry shaped lip gloss that is bright pink colored instead of red.
Clothing
For the girl who wants to proudly express her Strawberry Shortcake adoration!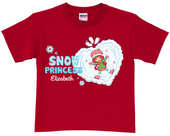 Snow Princess
- A red tee-shirt with Strawberry laying on the snow and making a strawberry shaped snow angel. Next to her are the words "Snow Princess" where the name of the person who wears the shirt can be put.
Sweeter - A blue shirt with strawberry dragging along a sled behind her with Custard and Pupcake on them. Between the characters is the words "Life is sweeter in the Snow". Names can be added to them also.
Light blueberry - A blueberry Muffin shirt that is light blue in color with her in winter attire. A very thin background border is behind her.
Cool - A light blue shirt with caroling Berrykins with the words "Friends are Cool".
Tiny Dancer - A red shirt with a strawberry on it and berrykins at the bottom of it.
Fantasy Petti Skirt - A pretty Raspberry themed skirt. Consisting of a silk purple top with thick band of white and shades of green, an over-layer skirt that is deep pink-purple with a raspberry image on one side and very detailed pattern design on it. Underneath is the magenta skirt with translucent material and translucent material green ruffled lining. At the top of the skirt is a pale pink-lilac silk bow with round, shiny beads resembling a raspberry.
Raspberry Berry Cute Leggings - Green and white, very thin striped leggings with sequined raspberries of different shapes and small purple strawberries. Near the hips is a white segment with tiny, and huge purple raspberries, along with tiny pink ones. A silk pink bow is worn by the waist and on bottom of the leggings are neon pink segments with while polka dots.
Strawberry Shortcake Berry Cute Leggings - Dark pink-red leggings with multiple dots of white, dark pink, and pale pink. The green and white striped side panels are separated by very small green sequins. At the top of the leggings is a band  of white with multiple strawberries and vines on it. A long green silk bow is attached to it. 
Lemon Berry Cute Leggings - Blue and very thin, dark blue striped leggings with multiple types of lemons all over it forming a square. The pattern in them is formed by yellow lemons, then a yellow strawberry. At the top of the leggings is a white segment full of multi-sized lemons, attached to a very pale, mint green bow. The bottom is pale green with wide, white dots.
Blueberry Berry Cute Leggings - Patterned like Strawberry's leggings, these are blue with giant white polkadots with multicolored and shaped blueberries separated by small, light pink sequins. At the top is a white segment with multiple shaped blueberries on vines, and attached is a silk pink bow.
Purses and Accessories
Now you too can express your love of the berry girls in the form of purses or cute accessories!
Tin Purses
Yellow Umbrella - A cute tin purse with dull lilac-blue coloring and small strawberries and raindrops raining down as Strawberry and Lemon share a yellow umbrella. The handle consists of pink and teal gems/beads and small silver segments.
Pupcake and Strawberry - A pale pink themed tin purse vaguely shaped like a butterfly with red lining on both parts. Strawberries decorate it as Strawberry and Pupcake are shown on the front. The handle is bright lime green gems/beads.
Strawberry - A white butterfly shaped purse with strawberries and tiny pink polkadots decorating it. The lining is pale pink with very thin red lining. Strawberry is shown laying down on this tin purse and the handle has pink beads/crystal pieces
Precious Princess - A purple tin pure with Strawberry wearing a fancy dress with Princess Berrykin. The handle consists of pink and lilac gem beads with small silver/white segments.
Live to Dance - A lilac-pink purse with Strawberry and Plum on it, both dressed in dancing garb. Handle is pink and green gem beads with segments.
Strawberry 2 - Very much like the originally Strawberry purse, but instead of polkadots their are small, light colored flowers. The lining is pink and the handle has ruby red gem beads.
Playsets
Toys and dolls that come in playsets!
The Berry Cafe - A fun, cute little set with a giant strawberry that can be opened and has noise/voices in it. Also comes with many food and drink items, and the outside table with bird attached to a bar on the top.
Berry Best Friends - A cute set of Strawberry and Orange that comes with a piece allowing them to ride on it. Also comes with accessories!
Goodies-To-Go-Scooter - Strawberry shortcake on her scooter with a special pastel themed outfit with many sweets.
Berry-Sweet Roadster - A pink and green themed car that comes with a Strawberry shortcake figurine and a few other little pieces.
Sunrise Berry Market - A strawberry shortcake doll that comes with a hat, sweets, table, and strawberry shaped shelf.
Fun-Lovin' Beach - A cute pack staring Plum and Orange! Includes a sandcastle with big pink flower umbrella, two surfboards, two drinks, a pink pair of flip-flops and a neon-pink pair of flip-flops. Both Orange and Plum wear unique, but slightly similar outfits. Comes with a special CD/disc.
Sun-Lovin' Garden - A cute set with Cherry Jam and Lemon. Comes with many accessories and a CD/disc with a few episodes on it.
Picnic in the Petals - Strawberry and Lemon dolls that are on a picnic! Comes with picnic table, food, hats, and chairs.
Berry Stylish - Strawberry Shortcake figurine that comes with a few random items and a shelf.
Berry Fruity Salon - Lemon's salon, in playset form! Comes with a Strawberry Shortcake doll.
Cookie Celebration - A strawberry and Orange doll set that comes with a few cookies and a serving tray.
Sweetest Styles - A strawberry and Raspberry figure set that comes with four outfits, a hat, and two purses for the girls.
Toys R Us Exclusive - A strawberry shaped carrying case that comes with "chibi"-like Strawberry, Orange, and Plum dolls. Each has two outfits and a purse. Each doll is seen worn in her exercise attire.
Books
Due to the length of coloring books and novels, they have been giving a separate page: Novels and Coloring
Activity Books
Strawberry Shortcake Sticker Book -
Drawing Book - With this book and it's magic pen you can learn to draw Strawberry and all of her friends.
Magazines
A special Strawberry shortcake magazine has been made for sometime now. Featuring posters, usually in magazine sets to be put together, fun crafts or baking ideas, and other interesting pages!
Comics - Due to the popularity, besides magazines some special comics have also been made. At first they were drawn with modified character images but as of late, the fronts have been given uniquely drawn covers to match the art style within the comics. The berry first comic had a special scratch-n-sniff feature.
Each comic has multiple stories in it, them being:
1 of 4:
2 of 4:
3 of 4:
4 of 4:
Digest: (A special reprint)
Digest 2: Berry Scary Storm, The Prickly Performance
Pineapples and other TP: The Pineapple Predicament, The Sour Truth
Volume 2, 1:
Volume 2, 2: Includes a recipe and two short stories
Volume 2, 3:
Volume 2, 4:
Other Merchandise
Berrykin Keychains
- If you ever wanted to hold or hug an adorable little Berrykin now you can have your own! These plush Berrykins come on a small keychain so you can attach them to anything you wish to carry it around on. Each has its own pattern on the star/flower piece and color scheme to match the girls, as they do in series.
Playdoh topper set - A playdoh carrying set that comes with four colors, two shapes, a special strawberry Shortcake topper, two molds, four head character shaped pieces, and a rolling piece.
Puzzle - An 100 piece puzzle of Strawberry, lemon, and Custard that comes with a carrying strap and a strawberry figurine.
Silly Bandz - a popular fad that takes rubber bands and turns them into shapes. Usually worn around the wrist, they can snap very easily and don't stretch too far. Comes with each friend, Custard, and a Strawberry.
Party Box - A special birthday set for girls who love Strawberry Shortcake, or pink! Comes up plates, cups, napkins, pink silverware, tablecloth, candles, and streamers. Everything is pink, hot pink, and light green to match Strawberry Shortcake.
Cake Topper - A two in one piece consisting of a plastic Strawberry shortcake and a strawberry shaped building with stickers of her friends in the windows. Her hat is all one solid color, not as it should be.
Press on Nails - Now you can have berry-rific, adorable, colorful nails! In a pack of ten, you get two of each nail: Raspberry on magenta, purple with flower, strawberry on red/magenta, blue with flower, and orange on orange. A big strawberry shaped nail-file is also included! The package is an image of Strawberry on the side with her Cafe in the background.
Strawberry Shortcake Trick-or-Treat Pouch - A cute pink themed Strawberry pouch/purse perfect for girls who wish to trick or treat as Strawberry and Co.
16 inch Strawberry Shortcake Bike - An adorable bike fit for any Strawberry Shortcake fan. It is white with lots of pale pink parts. The seat is white and green striped and there are pretty pink sparkly tassels on both handles and a red strawberry purse between them. The wheels are white with red inside and the peddles are green. The training wheels are also green and can be removed.
Wall Decals -
Furniture
Ever wanted a room full of Strawberry? Well then maybe you should look into purchasing some Strawberry Shortcake furniture!
Videos
See main article: DVD Releases
Videos of usually 3 or more episodes!
The Berryfest Princess -
Jammin with Cherry Jam -
The Glimmerberry Ball -
Sky's the Limit - The series Pilot movie!
Bright Lights, Big Dreams -
Puttin' on the Glitz -
Bloomin Berry Garden -
Berry Friends Forever -
Berry Bitty Mysteries -
Berry Big Help -
Fun Under the Sun -
Berry Best Friends -
Snowberry Days -
Berry Best in Show -
Berry Bake Shop -
Berry Tales -
Sweet Sunshine Adventures -
Campberry Stories -
Berry Best Chef -
Dance Berry Dance -
Foods/Snacks
Magic Cotton Candy - Magic Cotton Candy that starts out as candy, then when wet and or chewed turns into gum. A special strawberry flavor was made for Strawberry Shortcake.
Lemonade Tins - Cute tins with a unique flavor of lemonade in each one. So far known is pink lemonade featuring Strawberry, Classic lemonade with Lemon, and Blueberry Lemonade with Blueberry on the front.
Hot Chocolate Tins - Like the above but for Hot chocolate/cocoa mixes. A very special Halloween pack was produced with an adorable saying, "Very berry and a little scary". There is also chocolate cocoa with winter theme Blueberry, and candy cane blend with winter strawberry on the front.
Berry White Cupcake Mix - a cute tin of vanilla cupcake mixture.
Candy Canes - A pack of 6 strawberry flavored candy canes!
Jumbo Lollipops - 3 (maybe 4) Giant Lollipops that come in many colors, flavors, and images depicted on the front.
Gloss Candy - Special gloss candies that come in tubes resembling lip balm/gloss tubes with a plastic rounded lid. The tube is usually translucent to show the colored glossy candy inside. The following known are:
Strawberry flavored with rock star strawberry on the front. The tube coloring is pink themed and the gloss inside is clear.
Raspberry flavor with sparkly pop-idol strawberry on the front. Blue tube with yellow gel.
Fire Blaster Candy - Foaming candy that comes in a fire-blaster shaped tube. Comes in Green Apple, red watermelon, blue raspberry, and pink strawberry.
Pez - small pellets of candy that one loads into a character themed dispenser. So far released is Strawberry with the stick pastel pink, Lemon with green stick, and Orange with Orange stick.
Paddle Ball Candy - Cute paddle ball toys that come with multiple lollipop candies.
Mallow Pops - Chewy, fruity marshmallow candy pops shaped like Strawberry Shortcake holding a strawberry!