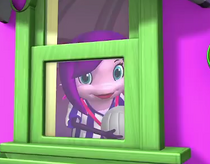 Ladybug Lois
is one of the minor characters featured in
Strawberry Shortcake's Berry Bitty Adventures
. She works at "Berry Bitty Dale Berry Sporty Sports" store.
Ladybug Lois is voiced by Ingrid Nilson, who also voices Raspberry Torte.
Lois watches Blueberry using her "Icy Skites", and is fascinated. She calls Blueberry, telling her that the store wants to manufacture and sell her Icy Skites. They also want her to design a matching outfit and make a commercial for their store website, including a jingle and a dance. Blueberry consults with Bosley Bookworm, and he encourages her to go for it.
Later, Lois calls Blueberry, telling her excitedly that the Icy Skites are sold like hotcakes.
Appearance
Ladybug Lois has a light pink face and purple hands. She has a thick purple hair, large grey-blue eyes and red lips. She has curled antennae and two pairs of wings: the bottom wings are transparent light pink, the top wings are dark pink with red spots. She wears a white and blue striped blouse.
Quotes
(Watching Blueberry using her Icy Skites) "Oh! Those are amazing!"
Trivia
Gallery
Ad blocker interference detected!
Wikia is a free-to-use site that makes money from advertising. We have a modified experience for viewers using ad blockers

Wikia is not accessible if you've made further modifications. Remove the custom ad blocker rule(s) and the page will load as expected.