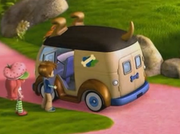 Huck's Pup-Mobile
is his road vehicle. He uses it to transport stray dogs from town to town, where he has them adopted, and also to drive with
Tom Tom
to
Berry Bitty City
for a visit.
Appearance
The Pup-Mobile is mostly painted beige. Its roof is dark brown, the fenders are blue, the bottom frame is gold, and the hubcaps are white and blue. It is designed like a dog, to match its function: on the roof there are decorations shaped like dog ears and a tail; the front grille and headlights resemble a dog face; the front fender and license plate resemble a dog collar with a tag. The blue handles of the side doors and the blue lock of the back doors are shaped like bones. On each side there is a sign of a bone combined with a huckleberry fruit.
Trivia
The Pup-Mobile is the third of four road vehicles shown in the show, following Cherry Jam's tour bus and Mavis Maraschino's news van.
It has enough room for 25 dogs.
In "The Berry Lucky Day", Cherry gave Huck half of her luck charm, which he hung on the rear view mirror.
Huck has the habit of getting the Pup-Mobile into obstacles:
It appears occasionally in season 3 only.
Gallery
Ad blocker interference detected!
Wikia is a free-to-use site that makes money from advertising. We have a modified experience for viewers using ad blockers

Wikia is not accessible if you've made further modifications. Remove the custom ad blocker rule(s) and the page will load as expected.