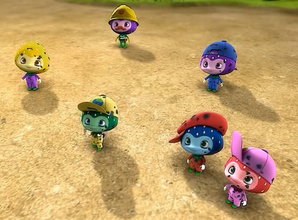 The Berrykins are some of the main characters in
Strawberry Shortcake's Berry Bitty Adventures
. They work hard, powering the city and do some construction and any task given. Except for
Princess Berrykin
who rules the city.
Known Berrykins
Quotes
Becky: Raspberry's not going to like this...
-----
Ed: We're ready to go, press the button, Earl!
-----
Bruce: AND... HALT!!! (Makes Earl go to his proper space) AND... DIG!!!
-----
Earl: I don't know how she can stand it...
Ed: WHO can stand WHAT?
Earl: Strawberry can stand working in a café that's... you know... haunted.
-----
Trivia
In addition to the above Berrykins, there are some more who are mentioned but do not make on-screen appearance:
Gallery
Ad blocker interference detected!
Wikia is a free-to-use site that makes money from advertising. We have a modified experience for viewers using ad blockers

Wikia is not accessible if you've made further modifications. Remove the custom ad blocker rule(s) and the page will load as expected.