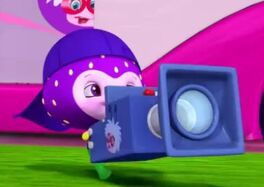 Berrykin Bertram
is one of the minor
berrykins
featured in
Strawberry Shortcake's Berry Bitty Adventures
. He is
Mavis Maraschino
's assistant and cameraman.

In "The Berry Best Vacation", Berrykin Bertram accompanies Mavis when she visits Berry Bitty City for the second time, seeking to interview Cherry for the first episode of her new show "Lifestyles of the Berry Big Bitty Stars".
Mavis treats Bertram like she does with everyone else: she bosses him around nonstop, and shows little concern when he is knocked into the air by Raspberry's parasol and lands painfully on a statue.
After Mavis is tricked by the girls to believe there is an exotic perilous island worth exploring, she and Bertram leave Berry Bitty City.
Bertram accompanies Mavis again, when she comes to Berry Bitty City to interview Cherry about the song "Dance Puppy Dance". 
Appearance
Berrykin Bertram is a "plum Berrykin", having a purple themed head with big purple eyes. He wears yellow gloves and a blue cap. He carries a blue TV camera with a sticker of Mavis' head.
Quotes
Trivia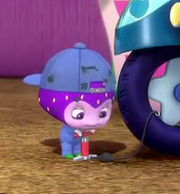 In "Top Talent" and "A Star is Fashioned", among Berrykin Bruce's mechanic crew there is an unnamed purple berrykin with purple eyes and a blue cap, who looks similar to Bertram, with several differences: he wears a blue coverall and white gloves, and his face and clothes are stained. Since that berrykin is not referred to by name and has no lines of his own (he and the unnamed yellow berrykin speak together), it is unclear if that berrykin and Bertram are the same character.
He appears only in two episodes: "The Berry Best Vacation" and "Dance Puppy Dance".
There is another Berrykin called Bertram - Berrykin Bloom's cousin, but there is no connection between them.
Gallery