Berry Rush
is an IOS Game created by MiniClip.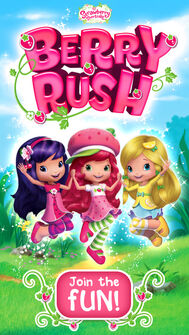 It is available on the iTunes Appstore, Google Play, and Amazon Appstore. It is free but has in game purchases that can be made with Play Coins or Real Money.
Goal
You Play As Strawberry and her friends and run collecting coins and fruit to help make cakes and other sweets.
Characters
Puppies
Outfits
As you unlock various characters, outfits can also be purchased using Play Coins. These Include:
Strawberry
Basic Dress - Starter Outfit
A purple and pink jacket over a white shirt, dark blue denim pants and hot pink flats. Her hair is worn with a frilly pink bow with pink strawberry. - 450
Pale pink ballerina outfit with her hair pulled into a bun with a pale pink bow. - 650
A white top with yellow scarf and pink short-pants. Shoes are pale indigo sandals with pink clips. A lilac headband with dots and yellow flowers with a pink strawberry attached is worn on her head. - 750
A gold dress with a purple floral and pink strawberry design on the chest. Comes with short purple bangs and dull green boots. Her hair is pulled into low curled pigtails with a purple and white scarf tied into a bow. - 950
A white and pink top with her strawberry design, green shorts, and hot pink shoes accented by green and a short pair of light pink socks. Her hair is pulled into a ponytail. - 1400
A white shirt with various pink-colored stripes and light pink denim shorts with a blue belt. Her shoes are raspberry colored flats and she has her hair worn in low braided pigtails held by blue bands. A dark purple pair of sunglasses sits on her head. - 1750
A pale pink pleated skirt attached to suspender straps over a white tank-top. She wears dull purple-indigo leggings with purple shoes. Her hair is adorned with a big frilly pink bow. - 1950
A very pale blue-lilac tank top with pink buttons and a purple and hot pink striped skirt. Her shoes are pink sandals accented by white. She wears a pink striped bow with a pink strawberry in the middle. - 2450
A pink jacket on top of a white shirt and denim pants. Her boots are brown and her hair is pulled into a thick braid held by a floral clip. She wears a brown cowboy hat. - 3250
Raspberry
Basic Dress - Starter Outfit
A sparkling fuchsia dress with a light green strap over her left shoulder to match her belt, headband, and tights. Her shoes are fuchsia boots. She wears two bracelets on her wrists - green and pink. The skirt of her dress and boot cuffs are light pink glitter to match the tattoo on her cheek. - 650 coins
Pale green top with white raspberries printed on it and raspberry-colored denim shorts. Her white and pink striped leggings are worn with light green tennis shoes and short socks. She wears a plain green headband and has her hair pulled up into a ponytail with white band. - 950 coins
  A white shirt with a raspberry on the chest. Comes with her normal headband, a pink frilly skirt with tiny white dots, green leggings with tiny white lines, and flats of pink and green. - 1450 coins. 
Normal hairstyle and accessory. Green shirt with white raspberry print and a raspberry icon on the right chest. Skirt is a pale blue two-layer ruffle with a white belt that has tiny fuchsia pom-poms hanging from a blue bow. Shoes are pink flats with cuffs around the ankle and a hot pink icon on the side. - 1850 coins. 
Hair pulled into ponytail with the raspberry-less headband. A pale pink and white shirt with two raspberries on it; one is pale fuchsia while the second is white. Comes with violet denim short-shorts and mint and light green sneakers with white socks. - 2250 coins.
Normal hairstyle and accessory. Comes with a blue top with a pink cat on it, pale blue pants with raspberry print, and a pair of pink slipper-like shoes. - 3450 coins.
Normal hairstyle and accessory. A yellow elbow-length top lined in fuchsia with a pale fuchsia print and green bow attached to the right hip with a raspberry in the middle. The three is a sparkling fuchsia three-layer ruffle. Comes with light pink stockings with tiny white dots resembling sparkles and shiny green flats. - 4550 coins.
Hair is up. She wears a white shirt with a big raspberry in the center, surrounded by smaller raspberries. The shirt is a light pink with tiny white dot print and comes with ivy-green leggings. The shoes are pink. - 5650 coins.
A white and pale pink striped shirt with mint denim shorts and pink flats with mint bottoms. Comes with colorful bracelets. - 6250 coins
Cherry Jam
Basic Outfit
Pale pink cherry top with pale pink and hot pink striped sleeves, a black glittering skirt with a thick belt composed of a white band, a fuchsia band, and a black studded top with her icon hanging from the right. Her tights are hot pink with glittery thin lines, while her shoes are black flats. She has a pale pink-lilac scarf on and wears a very thin matching headband with her cherry blossom hanging from the right. Her hair is black. - 550 Play Coins
A hot pink tank top with her cherry blossom located on her lower left hip. Her headband is normal but has purple polka-dots on it. Her skirt is purple and she wears pink striped leggings and hot pink flats. - 850 play coins.
A pale pink bedtime dress with a short lined skirt and top composed of flowers, white dots, and cherries. She wears a pair of bunny slippers and a pink headband with a bow on the right side that has her cherry blossom on it. - 1250 play coins.
A loose white and purple striped T-shirt with pink denim pants worn with sneakers of white, purple and fuchsia. She wears hot pink glasses and a leopard pattern headband with her cherry blossom icon. - 1650 play coins.
Her "Anything is Possible" costume - 1900
A lavender-pink dress with two tiny white buttons on the chest and a pale pink belt with long ribbon tails attached to her cherry blossom on the right of the stomach. Her headband is sparkling light pink. She has pale pink-peach striped tights and a pair of glittering pale pink flats. - 2250 play coins
Her normal headband but with a larger cherry blossom. She wears a tight, short hot pink T-shirt with purple dots and lining, along with a pale pink skirt with hot pink lines and flowers, and a slit up the side that is hot pink with purple polka-dots and has her icon above it. Her sandals are purple and hot pink. - 2950 play coins.
A hot pink jacket accented by pale mint and a blossom flower zip-pull. Her skirt is a two layer glittering ruffle, the top is violet while the bottom is purple. She wears fuchsia printed tights and glittering pink and hot pink sneakers. Her headband has a texture applied.  - 3850 play coins.
A glittering hot pink dress with a light purple belt around the stomach with her cherry blossom on the left. The sleeve straps are purple to match the top layer of the skirt. The second layer is light pink. She wears pale pink tights with hot pink shoes that have a thin purple strap around each ankle. Her headband is very thin and she has a hot pink bracelet. - 4950 play coins.
Various Purchases
Boxes of Fruits
To get 200 fruits instantly, you can use Play Coins.
Strawberries - 350
Oranges - 360
Cherries - 370
Blueberries - 380
Lemons - 390
Raspberries - 390
Plums - 390
Huckleberries - 390
Power Ups
These objects increase the potency of the power ups in levels.
Double Fruit - 350
Rainbow Bridge - 400
Watering Can - 650
Butterfly - 950
Characters
For a total of $49.99 you can unlock every character, plus future added characters and their puppies.
Puppies
Each Puppy has to be bought with their owner - except for Pupcake.
Packs
Rainbow Bundle - includes 3 gold sticker packs, 4 violets packs, and 4 blue packs $9.99
3 Gold Sticker Packs - $4.99
3 Violet Sticker Packs - $1.99
2 Violet Sticker Packs - 4900 Play Coins
3 Blue Sticker packs - 1900 Play Coins
Coins
50000 - $19.99
20000 - $9.99
9000 - $4.99
5000 - $2.99
1500 - $0.99
Recipes
Cupcakes
Small, Portable, Delicious!
An automatic item the player can acquire after completing the tutorial.
Cakes
Own two characters to unlock these
Ice Cream
Three characters are needed for this.
Special Cakes
Own at least four characters.
Trivia
It is Strawberry's first 3D game ever.
It's also the only mobile game not made by BUDGE Studios, who's known for making a lot of Strawberry Shortcake games and apps.
Gallery