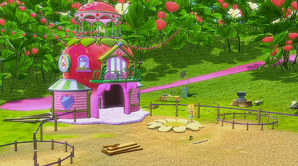 Berry Bitty Market
is a shopping district that was constructed before the arrival of
Cherry Jam
. It is located just outside of the city and is owned by
Strawberry Shortcake
. It was built for the berry bitty harvest of
Berrykin Bloom
to rid of the overflowing produce at
Orange Mart
.
Exterior
The Market was placed in a wide, opened area. The building is in three layers, growing smaller with each addition. The bottom floor is fuchsia with strawberry shaped windows and lining of hot pink. On each side is a small awning of green and ivory stripe, while in the middle rests the second layer, a giant strawberry with a small balcony that rests in the middle. The top portion resembles a gazebo with thin green bars and a small hot pink roof resembling a strawberry.
Interior
First Floor
The inside has a lavender and lilac brick floor with walls of pink and pale pink striping, beams of pink, and wood of fuchsia. The ceiling is dark mauve with a bright green chandelier and various strawberry lamps hanging from it. The various wall attachments are white with pink, red, and purple accenting.
Bedroom
Since the Market Place was built, Strawberry has been living here. She lends it to people who may be spending the evening in the City, like Huckleberry Pie.
Trivia
Strawberry is the first and so far only character with two shops.
Gallery
Ad blocker interference detected!
Wikia is a free-to-use site that makes money from advertising. We have a modified experience for viewers using ad blockers

Wikia is not accessible if you've made further modifications. Remove the custom ad blocker rule(s) and the page will load as expected.