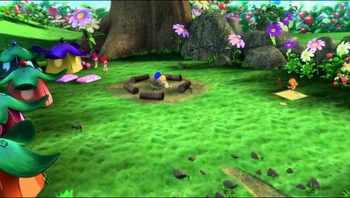 Berry Beautiful Meadow
is the Berry girls' favorite campout site. It is a lovely grassy glade surrounded by trees and flowers, located in the countryside, a few hours of walk from the village. It is large enough for ten campers and their equipment.
Every year, the Berry girls go camping at Berry Beautiful Meadow. They gather around the campfire, roast marshmallows, drink hot chocolate, and then they tell imaginary stories, the wilder and more outrageous, the better.
Trivia
It is first mentioned on "Tall Tale Trio".
On "The Berry Best Biscuit", Sour and Apple are sentenced to spend together a weekend there as a punishment for their behavior.
In "Tall Tale Trio", "Berry Big Tale-Teller" and "The Berry Bitty Great Race", some of the girls all tell funny and silly tall tales and stories, some actually being true and some being really funny:

Plum, Orange and Cherry each tell the group tall tales about why they were late to the campfire. Later they reveal secretly to Strawberry the real story.
Sweet and Sour (mostly Sour) tell their tall tale, which Sour makes it sound amazing and adventurous since she improvises the whole thing on the spot.
Apple missed the part about telling tall tales, so she tells a true story about how she was in a berry big great race against three evil cheater racers.
Gallery